Envisioned since the 1880's, the bridge was completed only after many decades of struggles to begin construction. Designed by the engineer David B. Steinman it connects the cities of St. Ignace on the north end with Mackinac City on the South.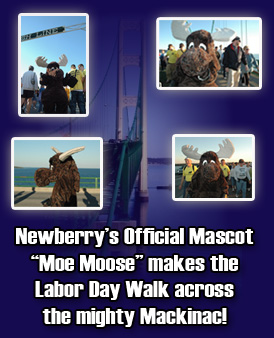 The bridge opened on November, 1st, 1957, and a year later was formally dedicated as "the world's longest suspension bridge between anchorages"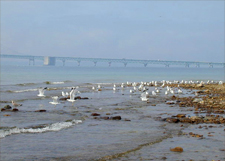 The length of main span is 3,800 feet (1,158 meters), which makes it the third largest suspension span in the USA and tenth largest worldwide.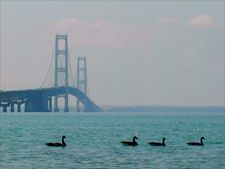 The Mackinac Bridge Walk is held every Labor Day in Michigan. Held since 1958, it is an annual event in which people may walk the length of the Mackinac Bridge. The walkers are traditionally led across by the Governor of Michigan, currently Jennifer M. Granholm. In an average year, 50,000 to 65,000 people participate in the 5-mile walk. This is more than the combined population of the two counties connected by the bridge.