Upper Peninsula ORV / ATV Trail Maps & Information
Off Roading & Motorcycling in the U.P.!
Michigan has millions of acres of public lands available for ORV use. There are thousands of miles of National Forest Roads, State Forest Roads and County Roads that are also available for ORV use and will connect you over 1,300 more miles of state ORV trails! ORV use rules vary between government agencies.
The State of MIchigan ORV maps below, provide an overview of the ORV trails themselves.
Click on the trail of your choice on map below to view DNR Online ORV / ATV trail maps in that area.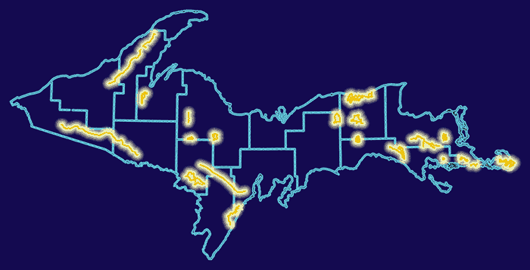 Purchase an ORV licence on line by clicking here to go to the State of Michigan DNR website, or go to a DNR Operations Service Center, or through participating ORV dealers and through participating hunting and fishing license agents.


To purchase a ORV licence by mail, contact:
MICHIGAN DEPARTMENT OF NATURAL RESOURCES GRANTS, CONTRACTS AND CUSTOMER SYSTEMS
P.O. BOX 30181
LANSING, MI 48909


Upper Peninsula ATV & ORV Vacation!
Let Superior Sights help you make the next All Terrain Vacation a success! Make sure to follow the ATV and ORV Trail rules and know how to avoid fines! By staying on the ATV and ORV Trail System, you and your family and friends can have the vacation of a lifetime!


Are you planning an Upper Michigan ATV or ORV vacation? Please visit this website to get a heads up on what not to do in the Upper Peninsula when riding your all terrain vehicle. We want you to have fun, stay on the trails, and come back every year for more! Please visit www.lucecountyorvdamage.com for details, photos and rules for riding in Luce County. Please make sure to check with our local Chamber of Commerces for further rules in regards to a specific area.

ORV Trail Name with links to DNR trail maps
County
Baraga Plains
Baraga County
Marquette County
Mackinac County
Houghton & Ontonagon County
Mackinac County
Mackinac & Chippewa County
Mackinac & Luce County
Marquette County
Mackinac County
Schoolcraft County
Mackinac County
Chippewa County
Mackinac County
Delta & Menominee County
Houghton County
Gogebic & Iron County
Chippewa County
Dickinson County
Luce County
Marquette County
Luce & Mackinac County
Luce County
Luce County